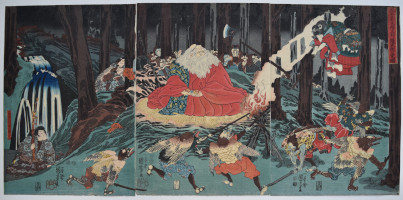 Click here to view image full size.
A triptych showing Ushiwaka Maru (Minamoto no Yoshitsune's childhood name), attended by Kisanda, practising fencing with the karasu or "crow" tengu in a forest glade on Mt. Kurama, north of Kyoto. His training in martial arts is being supervised by a white-bearded yamabushi tengu, Sojobo, King of the Tengu. (The yamabushi were followers of Shugendo– a shamanistic mountain ascetism.) Yoshitsune (1159-1189) is the best known Japanese warrior and a popular subject for Japanese artists and craftsmen. Famous for exploits such as the battle on Gojo Bridge with Benkei and the battle of Dan-no-ura. Published by Enshuya Hikobei, 1851-2. Robinson T264.
Fine impression. This is the first state with gradation on the rocks top left. Fine colour. Very good condition. Signed Ichiyusai Kuniyoshi ga.
Status: Available