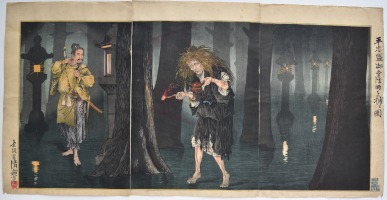 Click here to view image full size.
Taira no Tadamori Mido hoshi o toraen zu. The story relates how the Emperor Shirakawa was perturbed by a monster in the precincts of the Mido Temple at night. He commands the samurai Taira no Tadamori to kill it. The triptych shows Tadamori discovering that the monster is, in fact, the bedraggled old priest of Mido Temple who steals oil from the stone lanterns. Published by Hara Taneaki, c 1883.
Very fine impression with particularly fine gradation and printing. Fine colour. Minor edge damage, otherwise fine condition. Full margins: This design often comes with the title and or publisher's seal trimmed. Signed Hoensha Kiyochika hitsu.
Status: Available