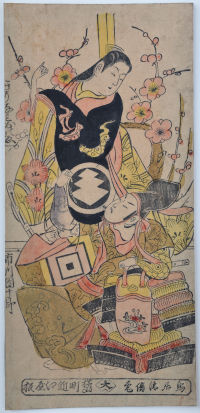 Click here to view image full size.
An early print showing the onnagata actor Kirinami Onoe (above) and Ichikawa Danjuro II, possibly in the play Yatsumune Taiheiki performed at the Nakamuraza Theatre, 11/1727. If it is this performance, then it's the first time a trap-door was used. Published by Omiya Kuhei. Ex collection Dr E.F. (1966). Rare.
Fine impression. Urushi beni-e with hand-applied colour: tan, lilac, yellow, light and dark beni, lacquered sumi over an embossed pattern and gold powder. Album backing and slight toning, otherwise very good condition. Signed Kiyomasu hitsu.
Status: Sold