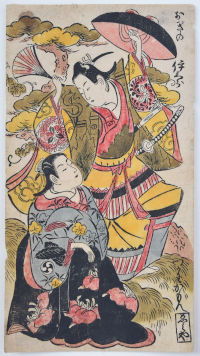 Click here to view image full size.
A fine primitive showing the actors Ogino Isaburo (above) and the onnagata actor Tsugawa Kamon below. Published c late 1720s by Emiya Kichiemon. Ex collection Dr E.F. (1970). Rare.
Fine impression. Urushi beni-e with hand-applied colour: tan, blue, yellow, light and dark beni, lacquered sumi over an embossed pattern and gold powder. Minor imperfections, but otherwise in exceptional condition for a print of this period.
Status: Sold