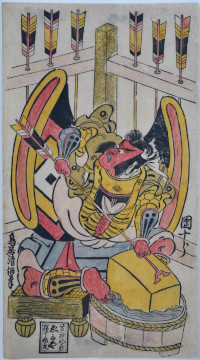 Click here to view image full size.
An outstanding primitive showing the actor Ichikawa Danjuro II as Soga no Goro in a scene from Yanone, "The Arrow Sharpener." One of the most popular of the Soga Brothers vendetta plays that was later designated one of the Eight Great Kabuki Plays. The role first performed as part of Suehiro eho Soga, "A Fan of the Auspicious Direction for the Soga Brothers" at the Nakamura Theatre, Edo, 1/1729. The forerunner for all the subsequent versions of this scene. This performance was supposed to have been inspired by the New Year's arrow sharpening ceremony conducted by the official arrow sharpener of the Tokugawa Shogunate in the early Edo period. Shows Danjuro grinding a huge double-headed arrow on a large whetstone. Published by Emiya Kichiemon. Extremely rare: Possibly unrecorded. Ex collection Dr E.F. (1976).
Fine impression. Urushi beni-e with hand-applied colour: tan, blue, yellow, light and dark beni and gold powder. Minor small wormhole, otherwise in exceptional condition for a print of this period. Signed Torii Kiyomasu fude.
Status: Sold