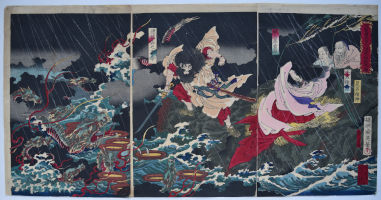 Click here to view image full size.
A triptych showing the Shinto Storm God Susanoo about to slay the eight-headed dragon, Yamata no Orochi, at the head of the Hi River in pouring rain. The dragon devoured virgins and had eaten the seven daughters of two earthly deities, seen top right. The eighth, Kushi-inada-hime, also on the right, is saved by Susanoo who encourages the dragon to drink eight-times brewed sake from eight vats which intoxicates it enough to be killed. Rare: Chikanobu is not known for this type of subject. Published c 1870s.
Fine impression, colour and condition. Mica applied to sky and the rain printed in silver. Full size. Signed Yoshu Chikanobu hitsu.
Status: Available