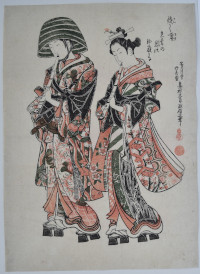 Click here to view image full size.
A large benizuri-e oban (16.75 x 12 in) showing a pair of lovers in the guise of komuso (medicant monks). They walk in high geta and have a black monk's stole draped around their shoulders. They are playing the classic komuso tune renbo nagashi on their shakuhachi. He wears the deep sedge tengai hat. A hokku verse is on the right. Provenance: Ex collection Henri Vever, sealed bottom right. Sold Sothebys, Highly Important Japanese Prints from the Henri Vever Collection: Final Part, 30/9/1997, lot 6. Extremely rare: Probably the only recorded impression.
Very good impression and colour. Wormhole expertly repaired at right edge, otherwise very good condition. Signed Hogetsudo Tanchosai Okumura Bunkaku Masanobu shohitsu with two seals Tanchosai and Okumura Masanobu.
Status: Sold