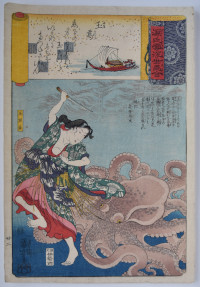 Click here to view image full size.
The best design from Genji kumo Ukiyoe awase, "Ukiyoe Comparisons of the Cloudy Chapters of Genji." A set comparing famous warriors to the Chapters of the Genji Monogotari written by Lady Murasaki Shikibu (c 973-1025). This design is for Chapter 22, Tamakatzura. Shows the pearl diver, Tamatori-hime, who has reclaimed the precious pearl stolen by the Dragon King. She is pursued by a host of his aquatic retainers including a giant octopus before finally returning the jewel to her husband Fujiwara no Kamatari, albeit buried in her chest for safety and causing her death. A popular subject with Kuniyoshi who designed a number of other oban prints and triptychs on this subject. The Dragon King's Palace can be seen beneath the waves in the background. Published by Iseya Ichibei, 1843-5.
Fine impression and colour. Slight crinckling in margins, otherwise very good condition. Signed Ichiyusai Kuniyoshi ga.
Status: Sold