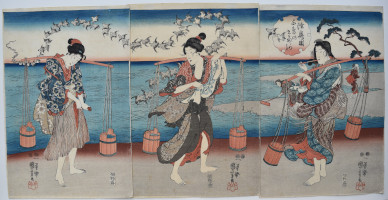 Click here to view image full size.
A triptych showing beauties carrying brine in yoked buckets to be made into salt. From a set Mu Tamagawa, Mutsu no kuni chidori no Tamagawa, "Six Jewel Rivers, Plover Jewel River in Mutsu Province." Also known as the Noda Jewel River. Above, a flock of chidori. The Mu Tamagawa theme was popular in Japanese art. Published by Sanoya Kihei, 1847-8.
Very good impression. Slight fading, otherwise good colour. Very good condition. Signed Ichiyusai Kuniyoshi ga.
Status: Available