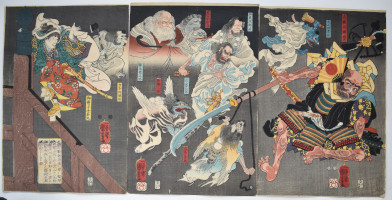 Click here to view image full size.
A triptych showing the famous battle on Gojo Bridge. The story relates how Benkei only needs one more blade to add to the 999 he has wrenched from samurai attempting to cross the bridge in order to fashion an invincible weapon. He meets Ushiwaka Maru (Minamoto no Yoshitsune's childhood name) and challenges him to a fight on the bridge. Yoshitsune is aided by Sojobo, King of the Tengu (white-bearded in the centre) and other yamabushi tengu. Benkei loses the fight and becomes Yoshitsune's loyal retainer. Published by Enshuya Hikobei, 1847-50. Robinson T194.
Fine impression, colour and condition. A lovely copy of this triptych. Signed Ichiyusai Kuniyoshi ga.
Status: Available