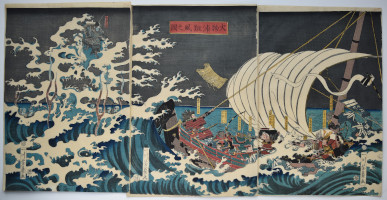 Click here to view image full size.
Daimotsu no ura nanpu no zu, "Adverse Wind on Daimotsu Bay." The ghosts of the Taira warriors attacking Yoshitsune's ship in Daimotsu Bay. Minamoto no Yoshitsune (1159-1189) aboard his ship Tsukimaru sailing along the coast of Settsu Province at Daimotsu. It was here that the Minamoto and Taira clans clashed and many Taira warriors perished. It is the ghosts of these that rise from the waves to attack Yoshitsune. His men struggle to lower the sail. The storm abates after the intervention of Benkei who prays to the gods of the sea and Kannon, the Bodhisattva of mercy. Published by Maruya Jinpachi (Marujin), 1860.
Very good impression, colour and condition. Signed Issen Yoshikazu ga.
Status: Sold