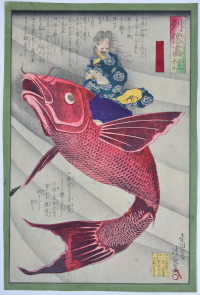 Click here to view image full size.
The Sennin Kinko (Chin. Ch'in Kao) riding a giant carp from the set Ressen gachu. There are various versions of this story. One narrates how Kinko was bathing in the river one day when the king of the fishes invites him to his kingdom. He tells his pupils where he is going and the date of his return. On the appointed day Kinko emerges from the waves astride a giant carp. His pupils vow never to eat fish again. Kiyochika was said to have studied Western-style painting under Charles Wirgman and his landscapes reflect the fast Westernisation and industrialisation of Japan. Published by Miyajima Yukinobu, 1883. A fine and rare print and set.
Fine impression and colour. One sumi smudge, otherwise very good condition. Signed Hoensha Kiyochika hitsu.
Status: Sold