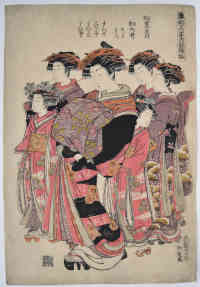 Click here to view image full size.
The courtesan Matsunoi of the Matsubaya with her kamuro. From a large series Hinagata wakana no hatsu moyo, "Models for Fashion: New Year Designs as Fresh as Young Leaves." Published by Eijudo and Juzaburo in the late 1770s. This set is the largest known bijin series (140 prints being known). However, the quality is consistent throughout. One of the great sets.
Fine impression with excellent colour. Minor soil, otherwise very good condition. Signed Buko Yagenbori inshi, Koryu ga.
Status: Sold