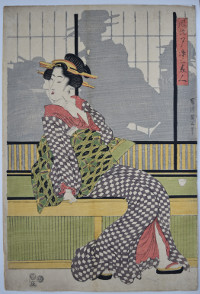 Click here to view image full size.
The first sheet from one of Eizan's most famous triptychs: Furyu yusuzumi san bijin, "Three Fashionable Beauties Cooling Off in the Evening." Shows a teahouse waitress seated outside her establishment with silhouettes of customers showing on the shoji screen. Published by Yamadaya Shobei, c. 1814-17.
Fine impression, colour and condition. Signed Kikugawa Eizan hitsu.
Status: Sold