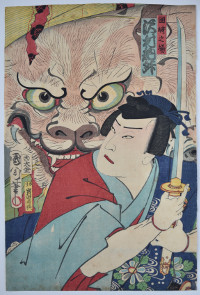 Click here to view image full size.
The actor Sawamura Tossho II in the Okazaki no ba, "Okazaki Scene" from Okazaki no neko, "The Cat of Okazaki." This episode from the famous play takes place in an old temple at Okazaki on the Tokaido. An old cat witch haunts the temple attacking young women. Published by Daikokuya Kinzaburo, c. mid 1860s. Rare.
Very good impression, colour and condition. Signed Kunichika hitsu.
Status: Sold