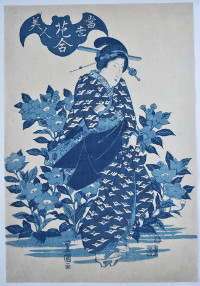 Click here to view image full size.
An aizuri (blue) print from a set Tosei bijin hana-awase, "Beauties of the Latest Fashion Compared to the Beauty of Flowers." In this case kikyo flowers – the Chinese bellflower. Aizuri prints were the outcome of avoiding intermittent edicts promulgated by the bakufu prohibiting the number of blocks that could be used. The aim being to curb excesses, raise moral standards and encourage thrift. Published by Shimizo, c. late 1820s. Three other prints from set are in the Brooklyn Museum of Art, 76.151.13; 14; 15.
Fine impression, colour and condition. Signed Toyokuni ga.
Status: Sold