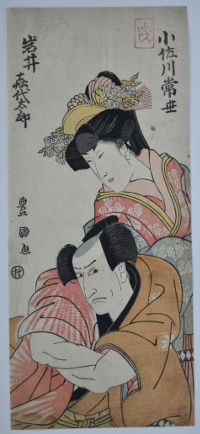 Click here to view image full size.
A hosoban showing the actor Iwai Kiyotaro II as Arakawa Taro and standing above him in an onnagata role Osagawa Tsuneyo II as the lady Koromode Gozen in the play Toki ni oshu Tsubo no ishibuni performed at the Ichimura-za Thatre in the 11th month 1802. At the top right is a seal which reads Inu, "Dog" (for Dog year 1802). Published by Murataya Jirobei.
Very good impression, colour and condition. Signed Toyokuni ga. e actor Kataoka Nizaemon VII (1755-1837) as Togoro. A striking design and probably unique. There are similar prints signed by Chorakusai (Seikoku) and the publisher Suharaya Tosuke was active c. 1812-1829 and is known to have published prints by Seikoku. Published c. 1817.
Status: Sold