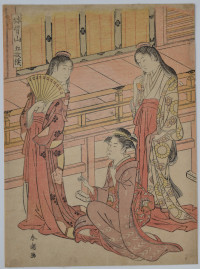 Click here to view image full size.
A chuban print from a set of five designs: Imoseyama gomai tsuzuki, "Imoseyama, a Set of Five Prints." Shows two court beauties and an attendant. Based on the Bunraku play Imoseyama onna teikin, "Husband and Wife Mountain: An Exemplary Tale of Womanly Virtue" which was performed for the first time in 1771. It was then adapted for the Kabuki theatre. The play is in five acts.
Very good impression, colour and condition. Signed Shuncho ga.
Status: Sold