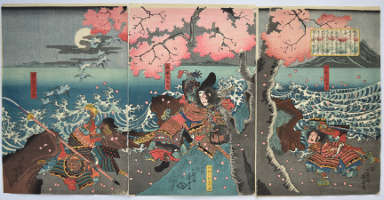 Click here to view image full size.
A triptych showing one of the great combats of the Gempei wars during the battle of Ichi-no-Tani to the west of Kobe in 1184. In the centre the Taira leader Satsuma no Kami Tadanori holds down the Minamoto Okabe Rokuyata Tadazumi. On the left Gennai Saemon Hidekata and on the right Adachi Saburo Munetaka. Tadanori was a renowned warrior and distinguished poet. Published by To c. 1848.
Fine impression, colour and condition. Signed Ichireisai Yoshiyuki ga.
Status: Sold