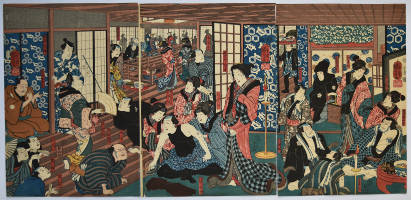 Click here to view image full size.
An interesting and rare Kuniyoshi triptych showing actors relaxing in a busy teahouse. In fact this group appeared in the play Sumidagawa tsui no kagamon performed at the Ichimura-za Theatre from the 3/3/1852. Left sheet: Suzuki Mondo just stepping into the room dressed in a blue and white yukata played by Sawamura Chojuro V. Other actors are Nakamura Kanemon , Nakamura Kantaro and Arashi Jitohachi III. Centre sheet: The courtesan Shiraito of the Hashimoto-ya standing right played by Bando Shuka I. Another actor Nakamura Kamenojo. Right sheet: The thug Tsukubane Sanpei seated holding a cup played by Otani Tomoemon IV and Oyaso, Mondo's wife, seated by an hibachi played by Onoe Kikujiro II. Another actor being Bando Matataro. Published by Yamaguchiya Tobei, 1852.
Very good impression, colour and condition. Signed Ichiyusai Kuniyoshi ga.
Status: Sold