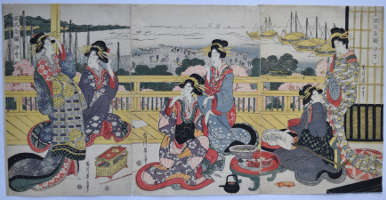 Click here to view image full size.
A triptych showing courtesans enjoying themselves on a balcony overlooking Tokyo bay. Furyu minami eki shiohi, "Fashionable South Station at Ebb Tide." In fact, clam digging at low tide which can be seen in the background. This is a play on words as clams had erotic connotations. Shiohigari, "clam gathering" season is March to June with the peak coinciding with Golden Week at the end of April beginning of May. Published by Maruya Jinpachi, c. late 1810s.
Very fine impression and colour. Impeccable condition. Signed Kikugawa Eizan hitsu.
Status: Sold