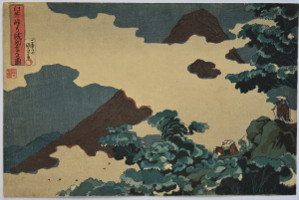 Click here to view image full size.
Travellers viewing Mount Asama. Usui-toge yori Asama o miru zu, "A View of Mount Asama from Usui Pass." From Kuniyoshi's best landscape set. Of the utmost rarity with most extant impressions differing. This and the impression in the Museum of Fine Arts, Boston, are similar, without the smoke coming from the cone of Asama (the most active volcano on Honshu). Other impressions are in: The British Museum, 1948, 0410, 0. 108, which has gradation up the left side of the mountain; the Metropolitan Museum of Art, JP 1424, which has gradation down from the summit; and Worcester Art Museum which is similar to the Mets, 1901. 692. Published by Yamaguchiya Tobei, c. 1836.
Very good impression, colour and condition. Signed Ichiyusai Kuniyoshi ga.
Status: Available