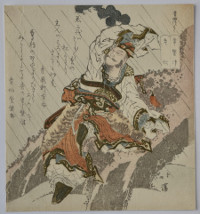 Click here to view image full size.
A surimono from a set Onkyoku zukushi, "An Array of Songs." In the cartouche, top right, on the right, is Tokiwazu (a school of vocal music featuring the 3-stringed shamisen), and on the left the title of the musical piece illustrated here, which is Oimatsu, "Old Pine Tree," a brief and auspicious piece composed in 1747 and used for celebratory occasions. A warrior is shown reclining against an old pine in heavy rain. Issued c 1818. Another from the set is illustrated in Reading Surimono, John Carpenter, Hotei publishing, 2008, no. 76, p. 203. Rare.
Fine impression with gold, blind-printing and the rain printed in silver. Very good colour. The red may be down slightly but, as yet, I have not found another impression to compare. Very good condition. Signed Hokkei.
Status: Sold