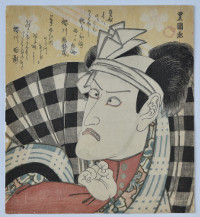 Click here to view image full size.
A surimono showing a bust portrait of the actor Ichikawa Danjuro VII as Kanawa no Goro, a retainer of Kamatari no Fujiwara, disguised as the fisherman Fukashichi from the Mikasayama Goten scene at the palace on Mount Mikasa in Act 4 of Imoseyama onna teikino. Three poems by Shoshokyo Otokado, Sakuragawa Jihinari and Sakuragawa Omokage. Issued c. mid 1820s. Rare.
Fine impression. Very good colour and condition. Signed Toyokuni ga.
Status: Sold