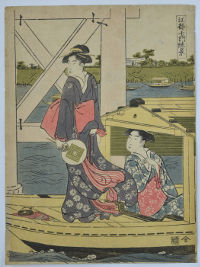 Click here to view image full size.
A chuban print showing beauties sight-seeing on the Sumida River. From a set of ten prints of views of Koto (an area of Edo bounded by the Sumidagawa to the west and Arakawa River to the east with many canals). Published by Enomoto, c. 1790.
Very good impression. Exceptionally well preserved colour: the fugitive pigments intact. Very slight soil, otherwise very good condition. Full size.
Status: Sold