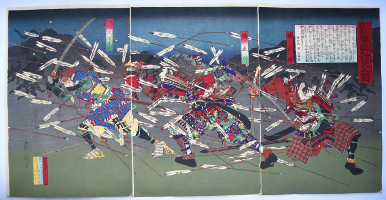 Click here to view image full size.
A triptych showing the last stand of the Kusunoki Clan at the Battle of Shijonawate in 1348. The event took place during the Nanbokucho wars when the Kusunoki Masatsura forces of the Southern Imperial Court were attacked at Yoshino by the Northern forces led by Ko no Moroyasu. Masatsura fought valiantly against a hail of arrows, eventually succumbing and committing suicide. . Published 1883 by Matsuo Danzo (who only appears to have survived one year). There is an earlier triptych version of this by Gekko in 1878. A later and far inferior reprint was published in 1901.
Superb impression, colour and condition with extensive burnishing. Signed Gekko ga.
Status: Sold