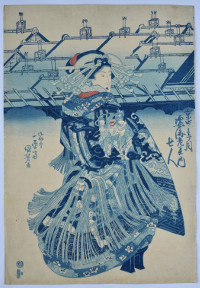 Click here to view image full size.
An aizuri-e print showing the courtesan Nanahito of the Sugata-ebi house, 1 chome, Kyomachi, parading in front of rooftops. Published by Yamaguchiya Tobei, c. 1835-40. In fact, the left sheet of a triptych. Apparently, no known copy of the complete triptych is known, only this design and the first sheet. Nanahito was a popular courtesan also appearing on prints by Kunisada and Eisen.
Very fine impression, colour and condition. Signed "Restraining tears", Ichiyusai Kuniyoshi ga.
Status: Sold