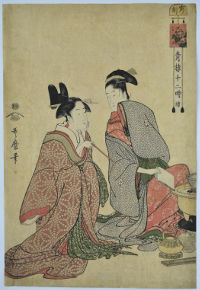 Click here to view image full size.
A scene in the licensed quarter: Tora no koku, "Hour of the Tiger [4am]" from a set Seiro juni toki tsuzuki, "Series: The Twelve Hours in Yoshiwara." Shows two courtesans chatting and seated before a brazier. Until 1873, the day was divided into twelve equal intervals (of 120 minutes), so ushi no tora was from 3am to 5am. Published by Tsutaya Juzaburo, c. 1794. Rare.
Fine impression. Very good colour; yellow ground. Loss of brass filings, otherwise very good condition. Signed Utamaro hitsu.
Status: Sold