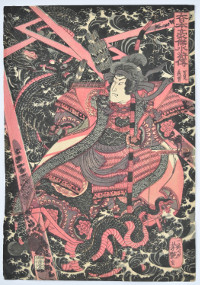 Click here to view image full size.
One of the Eight Dog Heroes, Satomi Yoshizane, seated surrounded by a dragon, thunderbolts and waves. From a set Dai Nippon goketsu Suikoden, "Great Japanese Heroes of the Popular Suikoden." The set (?) published by Shimizuya Tsuejiro, c. 1843-5.
Fine impression, colour and condition. Signed Ichieisai Yoshitsuya ga.
Status: Sold