Torii KIYOHIRO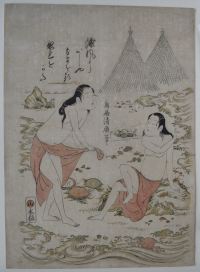 Click here to view image full size.
A large oban, 17.25 x 12.25 in; 44 x 35.2 cms, sumizuri-e with hand-applied colour. Shows two ama, abalone divers, on the seashore with nets in the background , abalone shells at their feet and an octopus in the waves below them. The poem above speaks of the salty sea breeze wafting across the shore. Published by Maruya Kuzaemon (Gyokeido) c late 1730s. Extremely rare: Another impression is in the Ritsumeikan University, https://www.dh-jac.net/db/nishikie/Z0164-003/portal/
Very good impression. Light soil, and lightly laid down. Faint fold marks, but generally good condition for its size and date. Signed Torii Kiyohiro hitsu.
Status: Available