Sold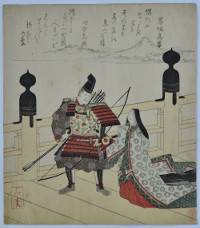 Click here to view image full size.
A surimono in Yamato-e style showing Otohime and Tawara Toda on the long bridge at Seta. There are different versions of this popular legend. One has it that Otohime, the Dragon Princess, had an enemy in the form of a giant centipede that lived and poisoned Lake Biwa. It had also killed two of her sons. She begs Tawara Toda Hidesato, a famed archer, to kill it. This he does and she rewards him in the Dragon Palace with silk, a sword and armour, a temple bell, and a bag of rice. The silk and rice are to last forever, however much is used. Hence his name Tawara Toda, "Rice-bag Toda." Probably issued for Dragon year 1832.
Fine impression, very good colour and condition. Signed Chiharu.
Status: Sold