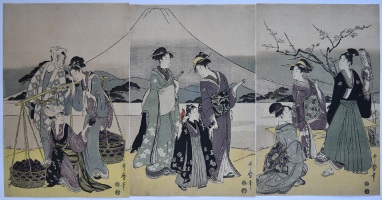 Click here to view image full size.
A benigirai-e (red-avoiding) triptych showing from right to left: A young nobleman with a falcon, a beauty beside him holding his sword and another seated smoking a pipe; the centre panel shows two women and a child holding a small falcon; while the last sheet has two women selecting eggplants from the baskets of an eggplant seller. The backdrop for the whole scene is a majestic Mt. Fuji. The combination of Fuji, falcon and eggplant is known as Ichi-Fuji, Ni-Taka, San-Nasubi (1-Fuji, 2-Falcon, 3-Eggplant) and it is supposed to be good luck to dream of these three in the first dream of the New Year (or, in fact, on the second night, the first being sleepless. The following day is known as hatsuyume). Extremely rare: the only impression I can find is illustrated in Kiyoshi Shibui, Ukiyoe zuten, No. 13, Utamaro, p. 37. (The date given here is 1801, although the late 1790s might be more appropriate as the vogue for benigirai-e [probably as a response to sumptuary edicts] was prevalent around the 1790s.) Published by Murataya Jirobei of Eiyudo. Another triptych by Utamaro of this subject is illustrated in Yoshida, Utamaro zenshu, p. 156. A very fine design.
Fine impression. Extremely good colour: these pigments are very susceptible to any light or moisture. Extremely good condition.Signed Utamaro hitsu.
Status: Sold