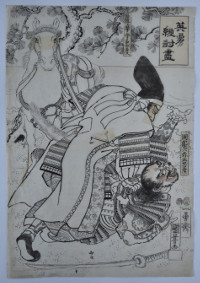 Click here to view image full size.
A fine original sumi drawing (hanshita-e) of oban size for an unpublished set: Eiyu kumiuchi zu, "Collection of Heroes in Combat." Has a date seal for 1856. Sumi and light colour with pentimenti on thin paper. Shows the protagonists Satsuma no Kami Tadanori, a famous general of the Taira Clan, in combat with Okabe Rokuyata Tadasumi of the Minamoto Clan during the Genpei wars of 1180-1185.
In extremely good condition. Signed Ichiyusai Kuniyoshi ga. Rare.
Status: Sold