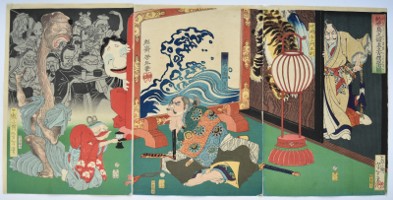 Click here to view image full size.
A triptych showing Ban Danemon Naoyuki exorcising the Bakemono in Masanori Fukushima's mansion. A badger ghost rears up surrounded by other goblins, one of whom attempts to appease him with tea. Fukushima no yakata ni oite Naoyuki kori o taiji no zu. Published by Tsujibun, 1866.
Fine impression, colour and condition. Signed Kaisai Yoshitoshi hitsu and Ikkaisai Yoshitoshi hitsu.
Status: Sold