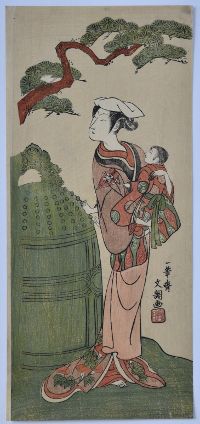 Click here to view image full size.
Little is known of Buncho's life. With Shunsho, he was the pre-eminent designer of actor hosoban producing them during the short period of 1766-1773. He also collaborated with Shunsho on the fine 3 vol. Ehon butai ogi in 1770. Shows the actor Nakamura Matsue I in an onnagata role holding a child beside a large bell. This is possibly Matsue playing Sakuragi, the wife of Munesada, in the play Kuni no Hana Ono no Itsumoji performed at the Nakamura-za Theatre in 11/1771. Provenance: Ex collection Ernest Le Veel. Sold lot 13, 3rd sale, Ader Picard Tajan, 5/11/1981. Seal au verso. Rare: Not listed in Exhibition Of Ukiyo-e By Ippitsusai Buncho, Riccar Art Museum, 1978.
Fine impression. Very good colour. Fine condition. Signed Ippitsusai Buncho ga with Mori uji seal.
Status: Sold