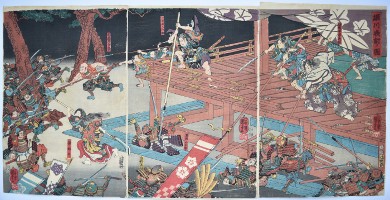 Click here to view image full size.
A triptych of the night attack on Yoshitsune's palace on the Hirikawa, Kyoto -hence called the Horikawa Palace – by the troops of Yoshitsune's brother (Yoritomo) led by Tosaba Shoshun in 1185. Horikawa yo-uchi no zue. Yoshitsune is seen on the raised wooden platform with Benkei. Below is his mistress, Lady Shizuka, with a halberd. Yoshitsune's brother's mind was poisoned against him and he was thought of as a threat. Published by Sanoya Kihei, 1851.
Very good impression, colour and condition. Signed Ichiyusai Kuniyoshi ga.
Status: Sold