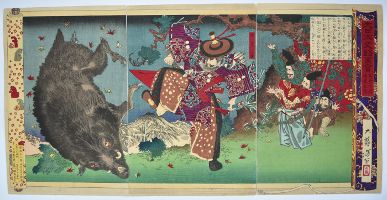 Click here to view image full size.
A triptych from a set of ten: Dai Nippon shiryaku zue, "Short Illustrated History of Great Japan." Each print is in the form of an unrolled makimono. This design shows the twenty-first Emperor Yuryaku-Tenno (457-479) out following his favourite diversion – hunting. The story relates how during 461 on Mount Katsuragi a large boar attacked him. He ordered his aid to shoot it but the man ran away, whereupon the Emperor kicked the boar onto its back and killed it. Published by Tsunashima 1879.
Fine impression of first edition. Fine colour. Slight album backing, otherwise very good condition. Signed Taiso Yoshitoshi.
Status: Sold