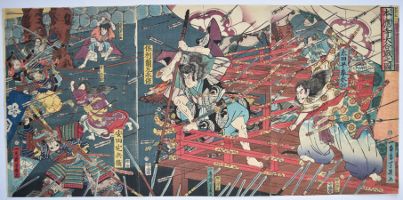 Click here to view image full size.
A triptych showing the famous battle at Honno-ji Temple, Nakagyo-ku, Kyoto in 1582. Honno-ji dai gassen no zu. The Daimyo Oda Nobunaga was at the height of his powers but came under attack from his treacherous samurai general Akechi Mitsuhide and the Oda forces. Nobunaga, his wife Noh and his retainers battle valiantly but he is forced to commit suicide. Published by Fujiokaya Keijiro, 1861.
Very fine impression, colour and condition. Signed Ikkesisai Yoshichika ga.
Status: Sold