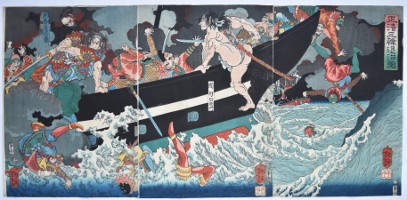 Click here to view image full size.
A triptych Masakiyo sankan taiji no zu, "A Picture of Masakiyo Conquering Korea." The design purports to show Kato Kiyomasa (1562-1611) invading Korea, but is probably a reference to the English bombardment of Kagoshima harbour in 1863. There is further confusion by the Koreans being dressed in medieval European costumes. Published by Yamaguchiya in 1864. There is a history in ukiyo-e of commenting on current – but sensitive – events, but setting them in the distant past to avoid censorship.
Fine early impression with burnishing on boat. Fine colour. Slight creases along right edge of sheets, otherwise very good condition. Signed Ikkaisai Yoshitoshi ga.
Status: Sold