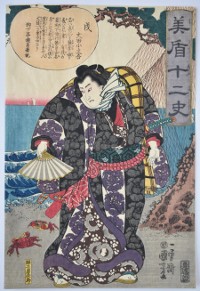 Click here to view image full size.
A print from the set Mitate junishi, "Selection for the Twelve Signs [of the Zodiac]." This being Dog. Shows the wrestler Inuda (Inu, "Dog") Kobungo umpiring a match between two crabs. Published c. 1845 by Iba-ya Sensaburo. Robinson S38.11.
Fine impression and colour. Very slight trimming, otherwise fine condition. Signed Ichiyusai Kuniyoshi ga.
Status: Sold