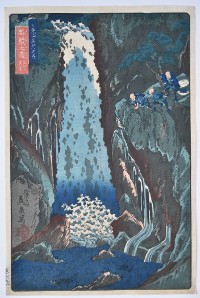 Click here to view image full size.
Kegon no taki, santaki no sono ikkei, "Kegon Falls, One of the Three Waterfalls" from a set of eight prints Nikkosan meisho no uchi, "Celebrated Views in the Nikko Mountains." Published by Yamamotoya Heikichi c. 1844. Obviously inspired by Hokusai's set of waterfalls. See: The Japanese Print: A New Approach, J. Hillier, Bell & Son, 1960, Chapter XVI, where Jack Hillier discusses Eisen and his landscapes and considers this set "… is perhaps the crowning achievement of his career as a designer of landscape-prints." Extremely rare.
Very fine impression. (I have only seen early impressions of this set – perhaps it was not popular at the time.) Fine colour. Extremely slight vertical fold, otherwise fine condition. Signed Keisai Eisen utsusu.
Status: Sold