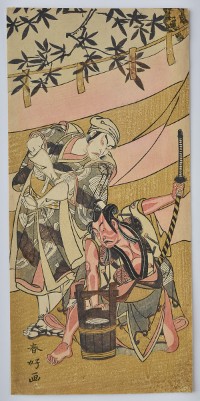 Click here to view image full size.
An hosoban showing the actors Ichikawa Danzo IV as Doi no Yataro (above) and Ichikawa Raizo II as Kojiro Masahira (below) in the play Kaomise Ama no Iwato, performed at the Nakamura-za theatre 11/1774. A fine design.
Fine impression, colour and condition. Signed Shunko ga.
Status: Sold