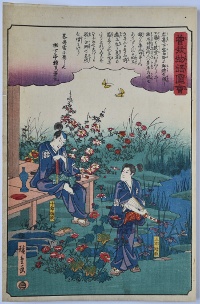 Click here to view image full size.
The Soga brothers bidding farewell to the summer foliage. From a set Soga monogatari zue, "The Revenge of the Soga Brothers." A set of 30 prints published by Ibaya Senzaburo, 1848. This famous story has many versions but basically it tells how Kawazu Sukeyasu was murdered by his cousin Kudo Suketsune. Sukeyasu left two sons and his widow remarried a man named Soga. He adopted the two children and they waited patiently for an opportunity to kill Suketsune which came when he was hunting near Mt Fuji. They killed him but were themselves slain in the ensuing battle. This is the first edition, it was republished in 1858 by Yamaguchiya Tobei.
Fine impression and colour. Light album backing, otherwise fine condition. Signed Hiroshige ga.
Status: Sold