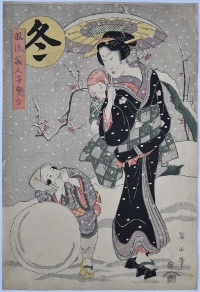 Click here to view image full size.
Winter from a set Furyu bijin kodakara awase, "Elegant Beauties and Precious Children." Shows a beauty carrying one child and looking down at another with a large snowball. Published by Matsumura Yahei, c late 1810s.
Fine impression. Very good colour. Fine condition: Full size with extra paper. Signed Eizan hitsu.
Status: Sold