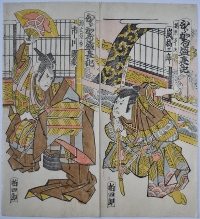 Click here to view image full size.
An early Osaka kappazuri-e hosoban diptych (printed with woodblock outline and stencilled colours) showing, on the left sheet, Ichikawa Danzo V in the role of Genta Kagesue, and on the right sheet Arashi Kitsusaburo II in the role of Kajiwara Heiji Kagetaka in the "Genta Kando" act of Hirakana seisuiki, performed at the Kitagawa no Shibai, Osaka, 7/1827. Unidentified publisher's seal. Complete diptychs are very rare.
Fine impression: Beautifully printed for a kappazuri print. Fine colour and condition.
Status: Sold