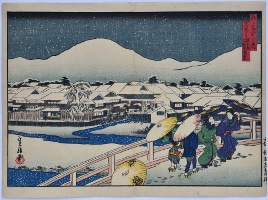 Click here to view image full size.
A chuban landscape from a set of at least 30 prints: Miyako meisho no uchi, "Famous Places in the Capital [Kyoto]." This design, Shijo-bashi yori Nawate-dori Yamato-bashi o nozumo, "View from Shijo Bridge Towards Yamato Bridge at Nawate Street." A fine set, inspired by Hiroshige, but not slavish copies and some excellent designs (as the snow scene here). Published by Wataya Kihei-ban, 1858.
Fine, early impression. Fine colour and, apart from the usual imperceptible fold, fine condition. Signed Sadanobu ga.
Status: Sold