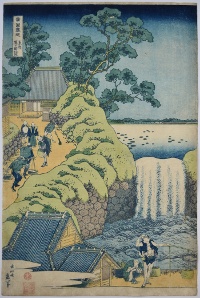 Click here to view image full size.
The Aoigaoka [waterfall] in Edo: Toto Aoigaoka no taki from a set of eight prints with title, Shokoku taki meguri, "A Journey to the Waterfalls of All the Provinces." A majestic set with a mostly beautiful unifying colour scheme: There is probably no other Hokusai set that has the same impact when viewed complete. Amongst Hokusai's finest work and much sought after. There are numerous Hiroshige designs based on the same location but they are prosaic in comparison. Eisen, inspired by Hokusai, also produced a set of waterfalls in 1847 which are themselves fine and rare. This particular fall is in fact a spillway for the Tameike reservoir seen above. Aoi Hill near Toranomon Gate to the left. The set published by Eijudo, c. 1832. Rare.
Fine impression. Fine, unfaded colour. Minimal soil and slight trimming on left: These designs are martyrs to trimming and many illustrated examples are trimmed, otherwise very good condition. (This raises an interesting problem because most Hokusai landscapes do not have a black border – contrary to Hiroshige's – which do, making it easy to judge the trimming on the latter.) Signed Zen Hokusai Iitsu hitsu.
Status: Sold