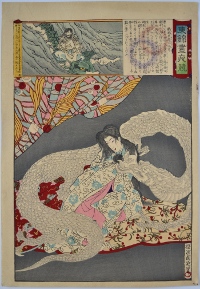 Click here to view image full size.
Princess Toyotama, the daughter of the Dragon King of the sea, gives birth to Ugayafuki Aezu by turning herself into a dragon. From a set of 50 prints Azuma nishiki chuya kurabe, "Edo Embroidery Pictures." The series published by Kobayashi Tetsujiro, 1886.
Fine impression with extensive mica. Fine colour and condition. Signed Yoshu Chikanobu hitsu.
Status: Sold