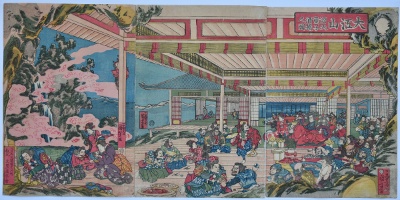 Click here to view image full size.
An early triptych showing Shutendoji's palace on Mount Oyeyama, Oyeyama Shotendoji shuzui no zu. Raiko (Minamoto no Yorimitsu) is charged by the Emperor Murakami with killing the evil Shutendoji who terrorizes the neighbourhood. He and his retainers infiltrate the castle and ply Shutendoji and his ogrish band with sake and dance for them. Eventually Shutendoji is so intoxicated he has to be carried to bed, whereupon Raiko and his followers attack and decapitate Shutendoji. This is the episode most depicted with the head flying through the air. Published by Daikokuya Heikichi, c. 1832. Robinson T21. Rare.
Fine impression, colour and condition. Signed Ichiyusai Kuniyoshi ga.
Status: Sold