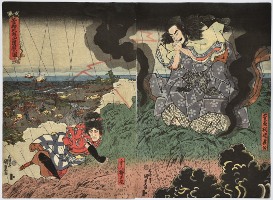 Click here to view image full size.
A rare diptych, Kansho Tempaizan mangan. This famous tale (with different versions) is the basis for the play Sugawara denju tenarai kagami, "Sugawara and the Secrets of Calligraphy" which was performed at the Kawarazaki Theatre, Edo, 9/1832. This Mt. Tempai scene shows Kan Shojo (Sugawara no Michizane), a Heian politician and poet, transforming himself into a demon and invoking a storm. Umeomaru , a former retainer of Kan Shojo is seen climbing the mountain on the left sheet. There is also a fine vertical surimono diptych of this subject issued by Kunisada in 1832. Published by Yamaguchi Tobei. A fine design I have not catalogued before.
Fine impression and colour. Imperceptible centre fold, otherwise fine condition. Signed Gototei Kunisada ga.
Status: Sold